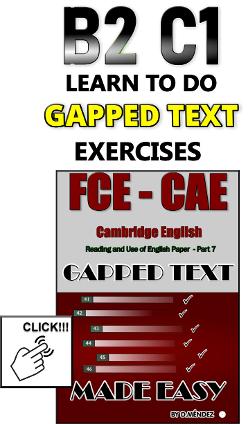 Get ready to nail part 7 of the Reading and Use of English paper with our ultimate guide! This book is your secret weapon for tackling the gapped text exercise in the Cambridge English FCE and CAE exams.
Discover a whole new approach to the test that guarantees success. You'll uncover insider techniques and strategies that you won't find anywhere else. We'll dive deep into dozens of gapped text exercises, unraveling the mysteries behind every answer and showing you the 'whys' and 'hows' of nailing them.
Don't miss out on this invaluable resource that will skyrocket your performance! Get your hands on our book today and master part 7 like a pro.
gapped text CAE, gapped text fce, fce gapped text, B2 First gapped text, gapped text B2, B2 gapped text, missing phrases, missing paragraphs, gapped text cae, cae gapped text, gapped text exercises, gapped text c1 advanced, advanced gapped text, gapped text C1, gapped text C1 Advanced, C1 Advanced gapped text, como hacer el gapped text, gapped text techniques, gapped text B2 First, First certificate gapped text, c2 proficiency gapped text , cpe gapped text. take for vs mistake for, mistake for, confuse with, mistake for vs confuse with, confuse with vs take for