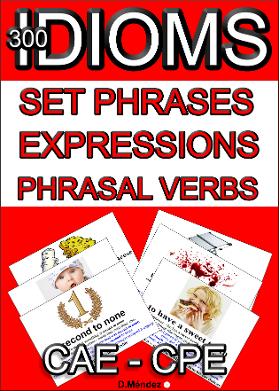 What exactly is an idiom?
Idioms are words, phrases, or expressions that cannot be taken literally. In other words, when used in everyday language, they have a meaning other than the basic one you would find in the dictionary. Every language has its own idioms. Learning them makes understanding and using a language a lot easier and more fun!
¿Qué es exactamente un modismo?
Los modismos son palabras, frases o expresiones que no se pueden tomar literalmente. En otras palabras, cuando se utilizan en el lenguaje cotidiano, tienen un significado que no es el básico que puedes encontrar en el diccionario. Cada idioma tiene sus propios modismos. Aprenderlos hace que la comprensión y el uso de un lenguaje sea mucho más fácil y divertido!
Learning grammar and improving your writing skills isn't enough to master the English language. You must understand common English idioms if you want to pass the CAE or CPE examinations.
Frequently, the answer to one of your reading test question will lie behind an idiom that you are not familiar with. The same applies to the listening test, you might understand most of what is being said only to get lost after hearing the obligatory idiom.
This book contains 300 of the most common idioms that usually turn up in CAE and CPE examinations.
idioms, modismos en inglés, c1 phrases, c2 phrases, c1 advanced phrases, c2 proficiency phrases, phrases and idioms, cpe phrases, cpe idioms, advanced phrases, English idioms, phrases C2, phrases C1, Cambridge English, CPE idioms, C2 idioms, C1 idioms, C1 phrases, advanced English Phrases, C1 set phrases, C2 set phrases