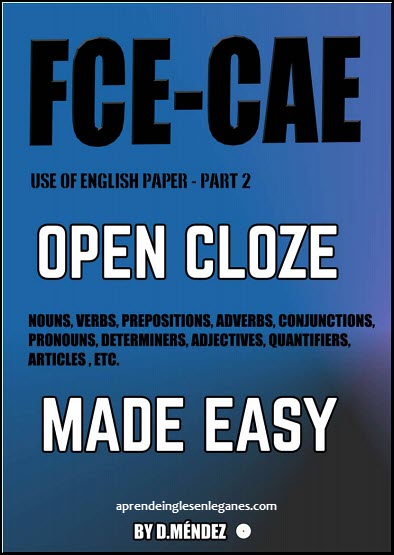 If you're struggling with the second part of the Cambridge Use of English test, the Open Cloze task, look no further than this comprehensive guidebook!
Packed with detailed explanations and numerous examples, you'll learn why choosing the right word is so crucial. Our user-friendly grammar explanations are accompanied by numerous examples that help you better understand the grammar behind every word choice.
With specific techniques and strategies, you'll be equipped to avoid the most common mistakes students make on this part of the Use of English test.
Don't let this task intimidate you any longer - let our guidebook be your secret weapon to success.
__________________________________________
Tenemos la solución perfecta para ti! Si estás luchando con la segunda parte del examen Use of English de los exámenes Cambridge, el "open cloze test", este es el ebook que has estado buscando.
En nuestro ebook encontrarás explicaciones detalladas y numerosos ejemplos sobre qué palabra utilizar y por qué. Además, incluimos diferentes textos de muestra para que puedas practicar y poner en práctica tus habilidades.
Nuestras explicaciones de gramática son muy fáciles de entender y están acompañadas de muchos ejemplos para ayudarte a entender por qué debes elegir una palabra en lugar de otra.
También compartimos algunas técnicas y trucos que te permitirán detectar ciertos casos donde es necesario utilizar palabras específicas.
No permitas que este examen te intimide más. Con nuestro ebook, tendrás todas las herramientas que necesitas para superar con éxito el "open cloze test". ¡Deja que esta guía sea tu arma secreta hacia el éxito!
PRODUCT DETAILS
Format: PDF (63 pages)
File Size: 1.31MB
Publisher Name: D.Méndez
Publication Date: November 2015
ISBN(s): 9781326483937
Category: English As A Second Language
fce open cloze, b2 first open cloze, cae open cloze, c1 advanced open cloze, use of English part 2, uso de inglés parte 2, Cambridge English, aprobar el First, material para el FCE, material para el B2 First, Material para el First, Mock exams, aprobar el FCE, FCE preparation, FCE Vorbereitung, preparación FCE, First Prüfungsvorbereitung, open cloze b2, open cloze ebook, open cloze c1, open cloze exercises, ejercicios de open cloze, flo-joe, destrozando el use of English, open cloze fce, open cloze exercises pdf, open cloze exercises with answers, open cloze fce, open cloze c1, open cloze cae