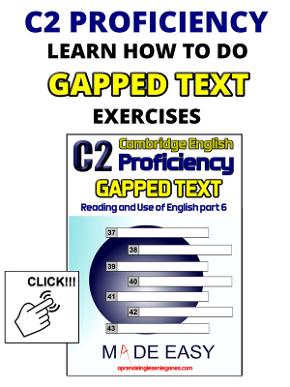 This comprehensive ebook is specifically designed to help students prepare for part 6 of the Reading and Use of English paper of the Cambridge English C2 Proficiency examination, also known as the gapped text task.
Through this ebook, you will gain valuable insight into a new and highly effective approach to tackling this challenging task. You'll learn numerous techniques and strategies that are not readily available elsewhere, and which are only gained through extensive practice and analysis of multiple gapped text exercises.
By studying the comprehensive explanations, clear examples and expert tips provided in this ebook, you'll be well equipped to master gapped text exercises with ease. If you're looking to achieve the highest level of proficiency in this area, this ebook is an essential resource that you simply can't afford to miss out on.
make it so that, make it so, make it so that (phrase), C2 proficiency phrases, CPE phrases, proficiency phrases, key word transformation C2, use of English part 4 C2, gapped text C2, gapped text cpe, cpe gapped text, C2 gapped text, gapped text tips, gapped text exercises, how to do gapped text exercises, Cambridge English C2 gapped text, advanced English phrases, C2 reading and use of English, gapped text task, gapped text examples, gapped text techniques