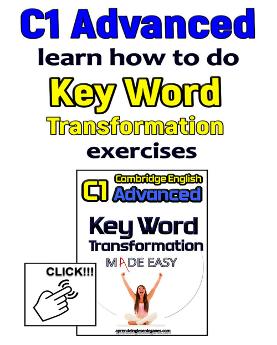 Looking to ace the Key Word Transformation part of the Cambridge English: C1 Advanced exam?
This ebook is here to help! With a focus on the different grammatical structures used in this section, such aspassive - active voice , impersonal passive, conditional sentences , inverted conditionals, inversions, set phrases, comparative-superlative, causative verbs and more, you'll gain a solid understanding of this part of the exam and how to tackle it.
Don't miss out on the chance to learn how to effectively approach Key word transformation exercises – get your copy today!
modal verbs of speculation, modal verbs of deduction, speculation about the past, deduction about the past, modals of deduction, modals of speculation, modal verbs key word transformation, modals key word transformation, b2 first key word transformation, c1 advanced key word transformation, fce key word transformation, cae key word transformation, firs key word transformation, key word transformation advanced, use of English part 4 cae, b2 use of English part 4, Cambridge English key word transformation, key word transformation fce, key word transformation exercises, key word transformation tips, key word transformation pdf, key word transformation practice, can't have + past participle, couldn't have + participle, must have + past participle, may have + past participle,