Cambridge Advanced Learner's Dictionary
Seguramente ya te habrás dado cuenta de escribir en inglés es una cosa, pero pronunciarlo es otra distinta, y si lo quieres hablar bien debes pronunciar bien.
El Cambridge Advanced Learner's Dictionary es una gran ayuda para conocer cómo se pronuncia correctamente cada palabra, ya que puedes ver la trascripción fonética y, sobre todo, escuchar la pronunciación tanto en inglés británico como inglés americano.
Una herramienta altamente recomendada a todos los que quieran mejorar su pronunciación en inglés, tanto para principiantes como para los más avanzados.
Cómpralo y mejora tu pronunciación ya.
Descripción del producto
Reseña del editor
¡Nueva y actualizada edición del diccionario de nivel avanzado! Ideal para los estudiantes con un alto nivel de inglés (C1-C2), contiene más de 140.000 palabras, frases y ejemplos, basados en el Cambridge International Corpus. Incluye registros de áreas de tecnología, medios de comunicación, sociedad, estilo de vida, así como vocabulario académico. Con definiciones claras y concisas, ilustraciones y una nueva sección "Focus on Writing" se convierte en el libro de referencia perfecto.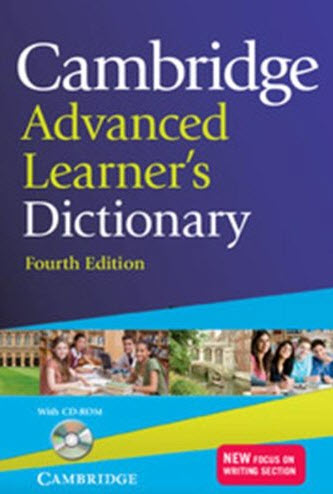 Descripción del libro
This paperback edition is ideal for advanced (C1-C2) learners of English and contains up-to-date vocabulary, including words from the areas of technology, media, language, society, and lifestyle, plus important words for academic study. With over 140,000 words, phrases, meanings, and examples, hundreds of pictures and illustrations, clear definitions and a new 'Focus on Writing' section, the dictionary is perfect as a reference tool and as a study companion. Informed by the Cambridge International Corpus and correlated to English Vocabulary Profile, it is also ideal for exam preparation. The CD-ROM contains the complete dictionary and recordings in British and American English.
Detalles del producto
Tapa blanda: 1856 páginas
Editor: Cambridge University Press; Edición: 4 (25 de abril de 2013)
Idioma: Inglés
ISBN-10: 1107619505
ISBN-13: 978-1107619500